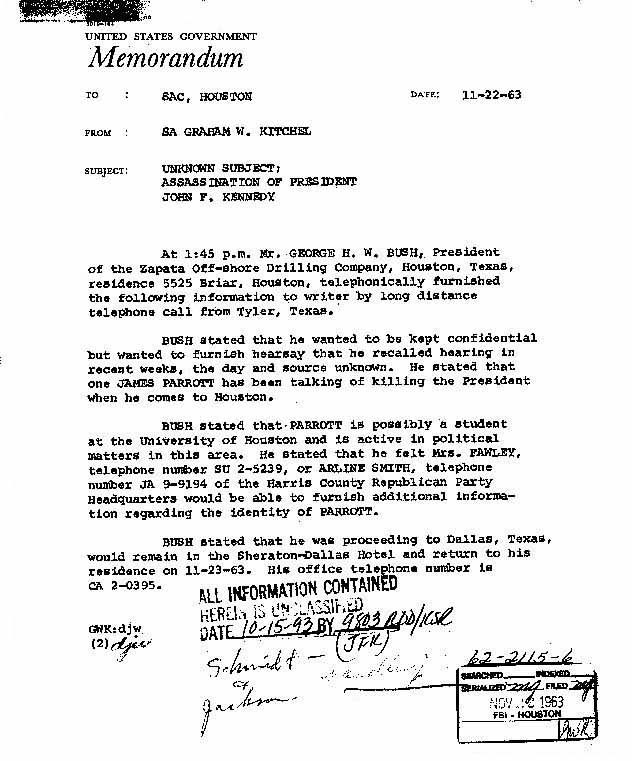 UNITED STATES GOVERNMENT
Memorandum
TO: SAC, HOUSTON DATE:11-22-63
FROM: SA GRAHAM W. KITCHEL
SUBJECT: UNKNOWN SUBJECT;
ASSASSINATION OF PRESIDENT
JOHN F. KENNEDY
At 1:45 p.m. Mr. GEORGE H. W. BUSH, President of the Zapata Off-Shore Drilling Company, Houston, Texas, residence 5525 Briar, Houston, telephonically furnished the following information to writer by long distance telephone call from Tyler, Texas.
BUSH stated that he wanted to be kept confidential but wanted to furnish hearsay that he recalled hearing in recent weaks, the day and source unknown. He stated that one JAMES PARROTT has been talking of killing the President when he comes to Houston.
BUSH stated that PARROTT is possibly a student at the University of Houston and is active in political matters in this area. He stated that he felt Mrs. FAWLEY, telephone number SU 2-5239, or ARLINE SMITH, telephone number JA 9-9194 of the Harris County Republican Party Headquarters would be able to furnish additional information regarding the identity of PARROTT.
BUSH stated that he was proceeding to Dallas, Texas, would remain in the Sheraton-Dallas Hotel and return to his residence on 11-23-63. His office telephone number is CA 2-0395.